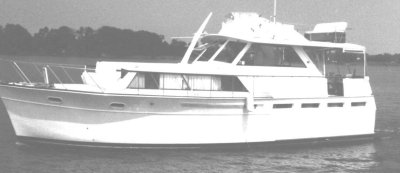 The call to be "on the water" continues...
Come aboard the "Granada",
a 47' Pacemaker Motor Yacht with twin Detroit 671 Diesels,
family boat during the Seventies,
and generally considered by all to be
the "prettiest boat on the Chesapeake Bay".
Before the "Granada" cruised the 38' Viking "Galaxy".
Most recently, the 30' "Escort". Other notable boats include the "Mar-J" a 30' cabin cruiser operating out of the Neshaminy Creek, and the "Restless", a 21' sloop rigged sailboat with a centerboard and a tiny single cylinder gas engine. Often, the "Restless" was referred to, with a smile, as the "Helpless" or the "Hopeless".
---

Verna and Bud,
partners in marriage 60 years, and counting,
seen here plotting their next adventures,
while on a walk among the trees, near their home,
taken during the week of their 84th and 85th birthdays, respectively, August 2000.
Having accepted the mission of securing a banana for the fruit salad,
this young (mid twenties), impetuous couple stepped away
from the preparations of a dinner with the parents
and drove through the night in their tired, 60hp '37 Ford coupe
to Warrenton, Virginia and were married.
The day was Monday, April 1, 1940.
April Fools Day.
Six children:
Charles F. (Jr.),
F. Michael,
Verna,
Kathy,
James,
Eileen
Founder/partner in
McCafferty Ford, Langhorne PA
,
started in 1954 and now under the management of new owners.
Click here for more information about "Mom" by son Mike
Click here for more information about "Dad" by son Mike