John P. McCafferty, M.D.
---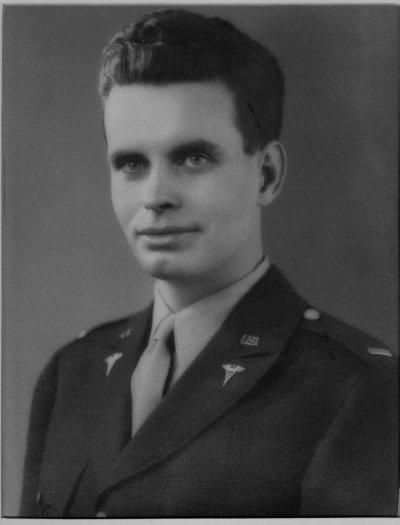 This photo was taken during World War II.
He earned the rank of Captain in the US Army, Medical Corps, and was awarded a Silver Star.

Click Here to Read His Thank You Letter, 13 Feb 1945

Notes:
email 12/23/2008, from James ("EmeraldMac") McCafferty to Terry McCafferty, son of John P. McCafferty, shortly after the letter was discovered by Bud McCafferty in papers belonging to his recently departed father, Charles F. McCafferty, brother of John P. McCafferty.

Terry, I had not seen the letter, thank you for sharing it. The thing that got me was the date! This letter was written just after the Battle of the Bulge, or some called it Ardennes Forrest Offensive. Uncle Johnny was with General Patton, I was told, as a medic. When he said he saw the horrors of war, he did, 19,000 americans died in that battle, the relief of Bastogne, and the general's famous reply to the German demand for surrender. Our parents never spoke of the war, and this letter is a true relic. It's hard to imagine what he saw, and the courage it took to come home from that and go on to be the great guy he was. They truly were the greatest generation. Thank you for sharing.